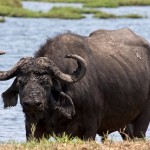 The real blood and guts Nyati is a truly fearsome brute, half a ton of foul temper and bad attitude topped off with a lethal, metre-wide boss of bone and horn, unapologetically designed for one purpose and one purpose only – to destroy anything stupid enough to stand in front of it.
My Nyati, on the other hand, whilst retaining the enormous strength and stamina of the original, is a beast of an entirely different character.
Assembled at the Mercedes Benz facility in the then West Germany, the permanent 4-wheel drive, Mercedes Benz 911 bull nosed truck was built to the exacting military specifications required by the South African Defence Force.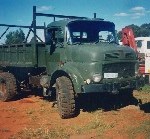 In order to conduct their war against the terrorist threat facing them in the remote and inaccessible border areas of South Africa, they needed vehicles which were 'bullet proof' in every sense of the word. In areas devoid of roads or maintenance facilities of any kind, reliability and strength were the essence of survival, the 911 was perfect for this scenario.
Fast forward 30 years or so and my beloved Helen, partner in so many thrilling adventures, and I, decided to follow our own, now divergent, paths through life. As always, Helen was brimming with exciting ideas, not only for herself but the entire world, including me.
"Imagine you trekking around the Republic in a mobile home… a road trip of unlimited duration, through this country of incomparable beauty. You'd have a great time, see new places and meet new people."
Just like that, the seed was planted.
Mmmm, how far could I go?  What about the 'wild side', the Serengeti, Mara Mara, Gorongoro crater, Leuwa plains, Mountain gorillas, Okavango delta? Hell, there's absolutely no limit… WOW!
Aaaah, but Mother Africa's not designed for recreational vehicles. But wait, I think I know of a VEHICLE designed for HER.
So it began, barely a month later, Nyati was mine. Originally used as a recovery vehicle by the South African Defence Force and sold to a logging company at an army surplus auction, the truck was in a sorry state and would need a helluva lot more than just cosmetic surgery before I could trust it with my life.
Mercedes Benz had built a variety of 'bull nosed' trucks from the 9 tonner with a 110 horse power normally aspirated engine, which Nyati was, up to the 15 ton monster driven by a turbo charged 170 horse powered engine through a 5 speed gearbox. Can you feel it coming?   Going deep into darkest Africa, I would need a nice new engine anyway, so why not slip the mighty turbocharged unit and gearbox under the bonnet?  It'll give me about 60% more power when needed and, hell, it's all standard Merc. bull nosed stuff anyway, what could possibly be difficult about that?
Some people in South Africa, when faced with a difficult or daunting situation shake their heads, mutter the magic word "Eish" and shuffle away. I should have joined them, but I didn't.
The blood, sweat, tears and cash flowed for years, completion dates became a joke, friends grew few and prophets of doom flourished. If anyone had seen me, so often in the dark of night, laying my head and hands on Nyati, talking slowly and earnestly, reassuring us both that we would get through this, EISH would not have been the word used.
To quote the Oracle, "Everything that has a beginning, has an end ".
Nyati's transformation from a war machine to a comfortable, fully equipped mobile home, redesigned for a new single purpose – to access and sustain me virtually anywhere on planet Earth, is now complete.
Everything's been kept very simple, the only 'printed circuits' are in the GPS, or the phone. Nyati now carries 650 litres of fuel and 650 litres of drinking water. The three banks of batteries can be charged by any one of four different methods and there are 28 kilograms of cooking gas on board. I've tried, wherever possible to fit mechanical 'backups'. It has been said that almost every part of this machine can be repaired using a crowbar and shifting spanner… We'll see.

Exciting times.
See you on the wild side.


A project by Paul Osborne in Support of African Wild Life, Saving the Survivors savingthesurvivors.co.za